Refractory Anchor
Products
SS Refractory Anchors are manufactured from good grades of steel and have find applications in various industries. Some of the industries are cement, ceramic, steel, thermal, petrochemical, power and many more. The Stainless Steel Refractory Anchors offered by us are available in assortment of shapes and sizes but usually they are in the shape of Y, U and V. In addition to this, we provide availability of Refractory Anchors in unlike specifications as per the preferences of global clients. We are tagged as one of the most illustrious Industrial Refractory Anchors Suppliers from India.. To enquire about the desired product(s)


Chemical Composition of Stainless Steel
| | | | | | | | |
| --- | --- | --- | --- | --- | --- | --- | --- |
| Chemical Composition Per Cent/ Grade | C % Max | Mn % Max | P % Max | S % Max | Si % Max | Cr % Ni% Max | Nr % Max |
| 304 ,304-L | 0.08 ,0.03 | 2.00 | 0.045 | 0.030 | 1.00 ,0.75 | 18.00 to,20.00 | 08.00 to 10.00 |
| 310 310S | 0.25 0.08 | 2.00 | 0.045 | 0.030 | 1.00 ,0.75 | 24.00 to 26.00 | 19.00 to 22.00 |
Temperature Resistant of Anchor Metal
| | |
| --- | --- |
| Anchor Metal | Temperature Resistant |
| Mild Steel [MS] | 540 Degree C |
| Stainless Steel 304 | 1080 Degree C |
| Stainless Steel 310 | 1350 Degree C |
Spiral-Y-Anchors
We are specialized in manufacturing superior quality Spiral Y- Anchors,these are widely used in various industrial applications.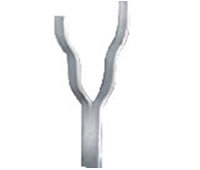 Specifications :
215 X 145 X 5 MM
190 X 45 X 5 MM.
185 X 105 X 5 MM.
175 X 30 X 5 MM.
155 X 70 X 5 MM.
90 X 30 X 5 MM.
80 X 30 X 5 MM.
---
U-Anchors
We manufacture and export superior quality U-Anchors, these can be availed in various specifications like: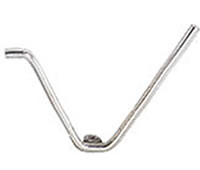 55 X 16 X 05 MM.
225 X 27 X 05 MM.
Wing Nut Type
---
V-Anchors
We are manufacturer & supplier of V Anchor , to match all types of lining for cement, ceramic, steel , petrochemical, refinary industry for the retaining of monolithic, ceramic fiber and brick lining. Our anchor sutaible for single & dual layer lining, brick ceramic , fiber and monolithic. All refractory anchor made from stainless steel [SS]304,310,Alloy 601- inconel and other heat resistant alloys.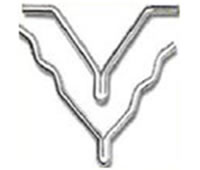 Specification :
55 X 15 X 05 MM
---
Y-Anchors & Crook Anchors
We manufacture a comprehensive range of refractory anchors for the cement, steel and petrochemical industry - for the retaining of castable and brick linings.Y Anchors and Crook Anchors are offered for immediate dispatch. Various C Clips and Hangers for ceramic anchors to suit individual requirements.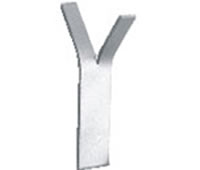 Specifications :
230 X 115 X 05 MM.
200 X 100 X 05 MM.
150 X 75 X 05 MM.
75 X 25 X 05 MM